Airy cotton on a washing line, floating in the wind on an Indian courtyard. It sounds like a very normal, daily scene in any household.
To me it was an image never to forget. It was the first time I got acquainted with the beautiful process of block printing. In this courtyard of the family of block printers, endless lengths of fabric, printed with little pink-red flowers, were hanging out to dry.
From the surrounding houses and streets came the sound of rattling sewing machines, birdsong, playing children and in the distance honking cars.
We enter the rooms where the block printers are working at long tables. There is a serene and calm atmosphere in the room. The wooden blocks are dipped in dye and placed on the fabric with utmost precision. Then the printer gives a blow with his hand on the block in order to press the paint firmly on the cotton. This process radiates calmness, concentration and craftsmanship.
The movements of the people and the emergence of these beautiful fabrics with refined patterns: I could watch this process for hours.
The ambiance that day on the courtyard is my inspiration. The colourful and beautifully decorated fabrics hanging on the washing line, the sounds and scents of India in the background. Of all handicraft techniques this became one of my favourites. I love the appearance of extremely refined yet visibly handmade textiles.
I am a lover of many different kinds of handmade textiles. From the dot-work technique from Staphorst, the Netherlands, to Japanese ikat weaving and from African indigo to Indian chikan embroidery.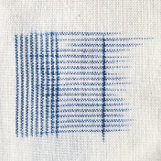 When I decided to start my own business I chose the technique of block printing.
Block printing starts with drawing a pattern and deciding how many colours you want the pattern to have. Then the woodworker gushes the pattern in a piece of wood. If the pattern has 4 colours, he cuts four different blocks. Each block only showing the part where one of the four colours will touch the fabric.
There are many different styles in patterns, from romantic flowers and Indian paisleys to stylized or graphic patterns.
Most interesting to me is to combine the traditional Indian block print styles and the contemporary European taste and mix it into a brew of my own, Anne-style.
Anne Ritsema van Eck